Products
Loan
trading
Octaura's industry-led electronic market trading, data, and analytics solution for loans can be used to grow trading volumes, increase liquidity and remove the cumbersome barriers to entry that have kept many investors from transacting with confidence.
Request Demo
Electronification
Reduce operational risks by eliminating manual processes. Stream liquidity and engage electronically – gain market insights through a comprehensive electronic solution for the loan asset class.
Streamlined
Lists are handled quickly and efficiently because requisite data and analytics are provided in tandem with pricing capabilities.
Simplified
Easy to access and all in one place. Straight-Through-Processing (STP) and FIX/API capabilities serving the needs of both front office and operations users.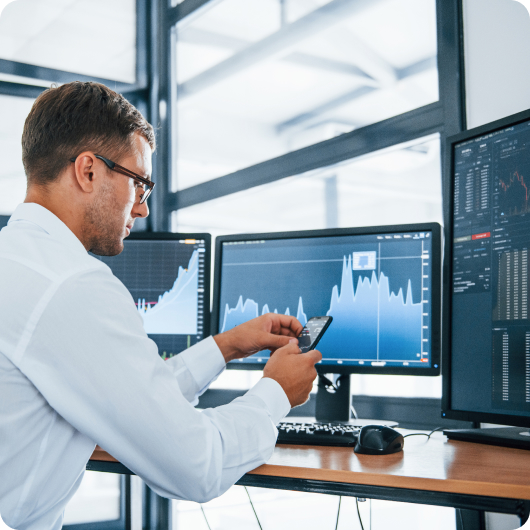 For Buy-Side Traders
Benefits to traders include liquidity, access, connectivity and loan level analytics to assist with due diligence and the determination of appropriate trade prices for loans.
Liquidity

– receive quotes from multiple dealers

Access

– multiple trading protocols (Dealer Liquidity, RFQ, Lists, BWICs & Match)

Connectivity

– integration with your Order Management System

Analytics

– fundamental loan and sector level analytics
Request Demo
For Sell-Side Traders
Octaura provides efficiency, connectivity and execution analytics enabling traders to trade more volume and focus more on the high margin part of their business.
Efficiency

– Straight Through Processing (STP) for trade booking, allocation and ticketing

Connectivity

– Upload liquidity, receive BWICs, execution analytics all automatically via API or FIX connection

Analytics

– Execution analytics generating insight for individual traders and a bank as a whole
Request Demo
For Portfolio Managers
Portfolio managers benefit from loan and portfolio level analytics and additional market insights to execute portfolio trades– shifting focus from execution to credit analysis.
Analytics

– Loan and portfolio level analytics

Transparency

– market color, price and volume transparency

Portfolio trading

– multiple ways of executing portfolio trades
Request Demo
Electronic Trading Protocols
Get better pricing and certainty of execution with bi-lateral, or multi-dealer engagement workflows, utilizing real-time market data.
Straight Through Processing (STP)
Transact purely through electronic transfers with no manual intervention involved.
Data and Analytics
Make better decisions to realize return, growth and risk management objectives with robust financial intelligence and analytical tools.
Simplified Process
One easy to use platform for the complete trade lifecycle.
Loan Trading